Cortimarco - The Cork experts
---
OUR MAIN PRODUCTS
CORK STOPPERS and OTHER CORK PRODUCTS
Beautiful and useful pieces made of Natural Agglomerated Cork, specially designed for modern and old fashion kitchens.

Thickness: 1.3cm (0.51")

Round: 15, 20 or 25 cm. (5.9", 7.9" or 9.8") diameter

Square: 15x15, 20x20, 25x25cm.

Rectangular & Oval: 21x19 cm and 29x22 cm.
NATURAL CORK GRIPS

For many purposes, Fishing Rods, Ski sticks, Domestic machines etc. Manufactured with the best quality of cork raw-material, and fine workmanship. Produced in any shape, and qualities. Special features such as : Dobble bore, Tapered bore, Reel seat cushion, Rubbercork bottom, and many others.

Quotations under request, providing us a drawing with measures or a sample.

CORK FLOOR TILES
Our tiles are manufactured with genuine natural cork from the best sources, providing a beautiful and long lasting quality floor.
Characteristics and Advantages: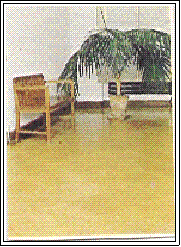 - Good thermal and acoustic insulation. (Saving energy)
- Warm in winter, cool in summer and non allergenic.
- Due to cork texture advantages on shock absorption, is the natural choice for kindergardens.
- Easy maintenance. Depending of wear over the years it can be sanded and revarnished, regaining his natural looking.
Our Cork Tiles test results, agree with ASTM-D 1752-84 Type II.
Cork Tiles are suitable, mostly for use in interiors.
Tile Measures and Formats:
Square: 30 x 30 cm. (12"x12") - 11 tiles = 1 M2 approx. (10,6 sq. ft)
Rectangular: 60x30 cm. (24"x12")
Thickness: 4 mm. (5/32")
Type of finishing: Varnished Gloss, Matt, or Waxed
Packing per carton with laying instructions:
77 tiles 30x30x4 cm. = 7 m2. (74.2 sq. ft.) or 56 tiles 60x30x4 cm. = 10 m2. (106 sq. ft.)
Our corkwood are sorted by thicknesses, qualities and packed in bales.
Thickness have a range of 8 to 18 lines and qualities goes from 1st to 5th, in several combinations.
Loading corkwood for export in the yard: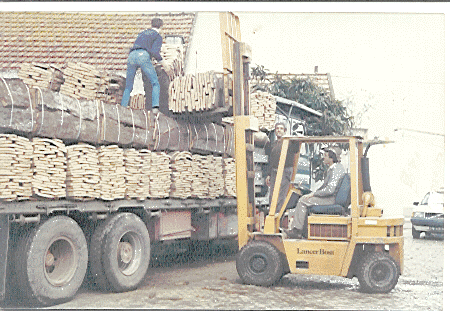 ---
Thanks for your interest in our products.
Please fill in our form and give your opinion or ask for more information.
On-line you can also:
---